Insurgent: Edgar~
Divergent's officiella twitter twittrade detta nyss:
Vi har alltså fått en officell bild på Jonny Weston som "Edgar". Karaktären Edgar finns inte med i andra boken, så ska bli spänande att få se vad han får för roll i själva handlingen.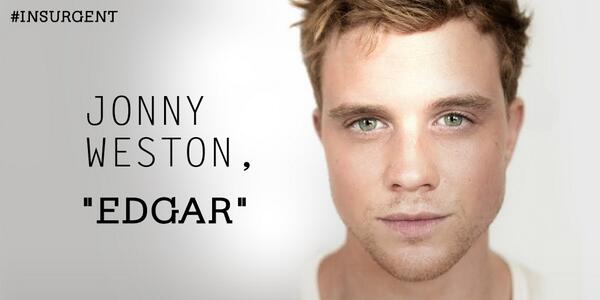 ---
If I Stay - första postern~
Första officiella movie postern för filmen If I Stay som är baserad på boken med samma titel. Filmen kommer ut den 5:e september i Sverige. Någon som har läst boken? Är den värd att läsa? 
---
Insurgent: bts inspelningarna och castning~
Jonny Weston och 
Suki Waterhouse
 har fått roller i Insurgent filmen. Jonny är inte helt 100% klar än, och därför vet vi inte vilken roll han ska spela än. Suki vet vi iaf ska spela Marlene som är Uriah's flickvän.
Lite längre ner ser ni några bilder från inspelningarna i Atlanta.
---
The Maze Runner: What Is This Place?~
---
The Maze Runner: Who Put Us Here?~
Två nya grafisk bilder från The Maze Runner. 
---
The Fault In Our Stars: Hugs 101~
MTV After Hours med Josh Horowitz är alltid lika roiga. Men denna är faktiskt mer mysig! Checka in video och lär er hur en riktig kram ska gå till!
---
Insurgent: inspelningarna har börjat!~
Ansel Elgort twittrade precis att han nu är på plats i Georgia för inspelningarna av Insurgent! Ett lyckligt fan har tagit en bild på honom, Shai och Theo i bilden under också. Filmen kommer på bio den 20:e mars nästa år!
---
The Fault In Our Stars: The Night Before Our Stars~
Ny info om The Night Before Our Stars som kommer att äga rum den 5:e juni i USA. Alla som går kommer att få ett armband och en exclusive poster från filmen. Ibland hatar jag att bi i Sverige. 
---
Insurgent: Stephanie L Schlund får roll i filmen~
Stephanie L Schlund annonserade idag på twitter att hon har fått en roll i Insurgent. Att hon använder hashtagen #Amity får fansen att tro att hon har en roll i just den falangen. Vem tror ni att hon kommer att spela?
Steph har spelat Cashmere från distrikt 1 i The Hunger Games: Catching Fire.
---
The Fault In Our Stars: Amsterdam~
Hazel och Gus som ler mot varandra och med Amsterdam fint i bakgrunden.
---
Big Hero 6: officiell första trailer~
Disney har gått ihop med Marvel och tillsammans gjort en film som heter Big Hero 6. Fårn skaparna av Frost och Wreck It Ralph. Det ärn en ganska oknd serietidning som kommer att visas på bioduken nu i november! 
---
Cinderella: Nonso Anozie intervju~
Nonso Anozie spelar "Captain" i Disney's nya Live action film, Cinderella (Askungen). Kaptenen är Prinsens rådgivare, bästa vän och stridstränare. Checka in intervjun nedan.
---
The Giver: Poster på karaktärerna~
Åtta nya posters från The Giver filmen.
Lois Lowry har skrivit boken och filmen kommer ut den 15:e augusti i USA.
---
Maleficent: Light and Dark~
I det övre klippet ser vi en sneak peek på "On The Battlefield", från Maleficent med Angelina Jolie. Skitcoolt hur det får till det i filmer alltså. Och i det undre klippet der ni en Side by Side trailer för Maleficent/Törnrosa.
---
Divergent: DVD release~
Enligt CDON.com så kommer Divergent släppas den 1:a september i Sverige. Release datumet för USA är den 5:e augusti. Nedan ser ni hur fodralet kommer att se ut. 
Update: Klippet som kom tsm med annonseringen om releaset datumet.
---
The Fault In Our Stars: Shailen Woodley intervju~
Detta har egentligen ingenting om någon film eller bok att göra men jag kunde inte motstå. Shai är ju så himla down to earth, literally! Och nu har vi fått veta att hon är minimalist också! Checka in när hon intervjuas av Jimmy Kimmel i intervjun nedan.
---
Insurgent: Romeo Miller som Uriah?~
Romeo Miller, som är en halvkänd rappare, har varit på en provspelning för rollen som Uriah i den andra filmen i Divergent serien, Insurgent! Uriah är med i Divergent under Flaggleken, han bjuder med Tris till höghuset i Divergent. Men tyvärr var väl rollen för liten dör att den skulle bli castat i första filmen. I andra filmen följer han med Tris till Candor. Han är bror till Zeke, hans flickvän heter Marlene. 
"Amazing day. Amazing audition. But why am I suddenly feeling very dauntless?"
---
The Mortal Instruments: City Of Heavenly Fire bok trailer~
Sista boken i Cassandra Clare's serie The Mortal Instruments har fått en bok trailer! Boken heter City Of Heavenly Fire och trailern kan ni se nedan. 
---
The Fault In Our Stars: 'Egging' Scene~
Isaac, Gus och Hazel 'äggar' Monica's (Isaac's ex) bil! Spoilers för er som inte vill se något "helt" från filmen.
---
The Fault In Our Stars: Love Scene~
Ny TV spot som visar "The Love Scene". Filmen är från 11 år så vi kör den åldersgränsen på detta klipp också då ;) Filmen kommer ut om exakt en månad idag i Sverige!
---
Beauty And The Beast: blir till live action film!~
Bill Condon kommer, enligt rykten, att regissera Disney's gammla klassiker ' Skönheten och Odjuret', som kommer bli en live action film 2015. Nu får vi hoppas att de får till odjuret, att de inte blir en för "mörk" version och att de castar rätt personer.
---
Batman v Superman: Dawn Of Justice~
Batman vs Superman filmen som de skrivs mycket om nu har redan fått en uppföljare innan den ens har släppts. Filmen har precis fått sin officiella titel 'Batman V Superman: Dawn Of Justice' och sin nya officiella logotyp. En blandning mellan superman märket och batman symbolen. Supercool tycker jag, vad tycker ni?
Premiär datumet är den 6:e maj 2016.
---
The Maze Runner: Dylan O'Brien och James Dashner intervju~
Intervju med Dylan O'Brien (Thomas) och Jams Dashner (författare). Lång intervju men trevligt med något annat än alla bilder.
---
The Fault In Our Stars: The World is not…~
Ny grafisk bild från TFIOS med texten: The World Is Not A Wish-Granted Factory 
---
The Maze Runner: The beginning or the end?~
Ny bild från The Maze Runner! Är det här början eller slutet på labyrinten? Jag vet! Vet ni? Om inte... läs boken! 
---
The Fault In Our Stars: Nya klipp~
---
Guardians Of The Galaxy: Full length trailer~
Mycket bra trailer till Guardians Of The Galaxy med mycket bättre material och lite bättre förklaring om vad vilken handlar om.
---
The Fault In Ours Stars: 60 seconds intervjuer~
60 sekunder med Shai och Ansel. Först "personliga frågor" och sedan frågor om TFIOS. Riktigt fina intervjuer eftersom de är så vana med varandra.
---
Guardians Of The Galaxy: Ny teaser trailer~
Ny kort teaser trailer för Marvel's Guardians Of The Galaxy.
---
Divergent får ändrad äldersgräns!~
Fina nyheter från SF.se! Divergent kommer att få ändrad åldersräns till 11 år, vilket innebär att 7åringar får se filmen med vuxet sällskap. 
---
The Fault In Our Stars: Shailene Woodley intervju~
Shai får plats med sitt liv i en resväska. Hade jag adrig klarat av. Se när hon intervjuas av Jimmy Kimmel från den 15:e maj.
---
Cinderella: första teaser trailern!~
Första teaser trailern för Askungen som nu blir mer än bara en Disney film. Filmen kommer ut mars 2015 och du kan läsa mer om film på
IMDB.com.
 Helena Bonham Carter ärden goda fén och Stellan Skarsgård är storhertige och kungens högra hand.
---
The Fault In Our Stars: Livestream event 14:e maj -
TFIOS livestream event från L.A. John Green, Shailene Woodley, Nat Wolff and Ansel Elgort som är med i filmen var där och Ed Sheeran, Grouplove, and Charli XCX från soundtracket uppträdde. Hostade gjorde youtube fenomenet Tyler Oakley. Eventet startar ca 30 minuter in.
---
The Fault In Our Stars: Ansel träffar Ellen~
Ansel Elgort träffar Ellen på hennes talkshow, sen en del av intervjun nedan.
---
The Maze Runner: Never Hurt another glader~
Regel #2 i The Glade. Vi ser att Thomas blir attackerad av Ben och att Bens bestraffning.
---
The Fault In Our Stars: No One Ever Loved~
Lykke Li's låt No One Ever Loved har nu kommit ut på spotify och Youtube. Låten är från TFIOS soundtracket.
---
The Fault In Our Stars: I'm A Granade~
Nytt klipp från TFIOS filmen. Det är det som definerar boken för mig. Den svenska titeln där den för sitt syfte. Förr eller senare exploderar jag. Vi har sett henne säga det, men nu får vi se en hel del av just den scenen också. Längtar! 
---
Fantastic Beasts And Where To Find Them: release datum!~
Fantastic Beasts And Where To Find Them har fått ett release datum! 18 november 2016! Uscha vad långt det är dit, men snart börjar kanske några casting uppdateringar så vi får något att läsa om. J.K. Rowling har tagit på sig att vara screenwriter för första gången. Spännande.
---
Maleficent: Light and Dark~
Ny featurette från Maleficent. De pratar om det "mörka" och det "ljusa i filmen". Ny klipp från filmen också! :D
---
Batman vs Superman: första bilderna~
De två första bilderna på Ben Affleck som Batman i Batman vs Superman filmen. 
---
X-men: Apocalypse: Channing Tatum castad!~
Många rykten  fram och tillbaka men nu är det officiellt! Channing Tatum komer att spela Gambit i nästa X-men film. "Ett av hans favorittricks är att ladda spelkort med energi, för att de sedan ska explodera när han kastar iväg dem."
"Gambit is the only X-Man I've ever loved. I mean, I've loved them all, they're all great, but I guess just being from down South; my dad's from Louisiana, I'm from Mississippi, Alabama, Florida. I don't know, I just related to him … I would die to play him."
---
The Maze Runner: 'We Don't Belong here'~
Ny bild från The maze Runner filmen. Undra vad de ser på denna bild? 
---
The Fault In Our Stars: Tee Shirt - Birdy~
Tee Shirt som Birdy har gjort till The Faut In Our Stars Soundtracket har nu kommit ut och du kan lyssna på den på spotify! Eller i videon nedan. 
---
Insurgent: Johanna har blivit castad!~
Octavia Spencer
 har fått rollen som Johanna Reyes i Insurgent, andra delen av Divergent trilogin som kommer ut den 20:e mars 2015. Karaktären Johanna är en Amity (de fridfulla) som bytte från Candor (de ärliga). 
Johanna är de som "leder" de fridfulla i andra boken när Tris, Four och de andra kommer dit. 
De står att hon har mörkt hår och ett ärr som löper över ögat och ner överkinden till läppen som gör att hon både är blind på ena ögat och läspar litegranna.
---
The Fault In Our Stars: Tasting The Stars~
Nytt helt klipp från TFIOS filmen. Klippet heter Tasting The Stars. Vill se filmen nuuuuuu!
---
De utvalda: tankeläsaren - Blir film~
Jag hade ingen aning om detta förren nyss. Men tydligen är det så att 
Reliance Entertainment
har köpt rättigheterna för De Utvalda serien för nästan ett år sedan! Sedan står det bara att de håller på med Pre-producton än så länge och ingenting annat så vi får helt enkelt vänta och se. Filmen heter Graceling på engelska och ni kan följa deras
officiella facebook sida här.
 Här har ni baksidan av boken: 
Boken handlar om artonåriga Katsa. Hon lever i en värld med sju kungadömen, där vissa ovanliga barn föds som så kallade "särlingar", med olikfärgade ögon. Ett barn med olikfärgade ögon har en särskild gåva, och föräldrarna måste lämna sitt begåvade barn till landets kung. Katsas gåva är dödandets gåva, så hon har vuxit upp vid kungens hov och utnyttjas som torped. Hon skickas ut på uppdrag att hota, lemlästa eller döda kungens fiender. 





Allt förändras när hon möter den unge prins Po, som också är en särling. Han har tankeläsandets gåva. Kärlek uppstår, och tillsammans ger de sig ut för att störta en ondskefull kung. De upptäcker också oanade sanningar om sig själva - har Katsa verkligen dödandets gåva eller är hennes talanger egentligen till för något annat ...? Och hur ska de kunna störta en kung som har gåvan att kontrollera andra människor?

 
---
Serier~
Hej, jag vet att jag HATAR att bli spoilad av serier, men jag kunde verkligen inte hålla mig från att skriva om dagens Once Upon A Time avsnitt här på bloggen. Som tur är så kommer det inte upp förren ikväll klocken 18:00.
Så nu har ni blivit varnade! 
Och vad tycker ni? Jag gillar att skriva om spännande nyheter som den som kommer ikväll. Men gillar ni att läsa sånt? Kommentera gärna vad ni tycker. 
P.s. Jag kommer dock aldrig att bli en sån som skriver sammanfattningar om varje avsnitt.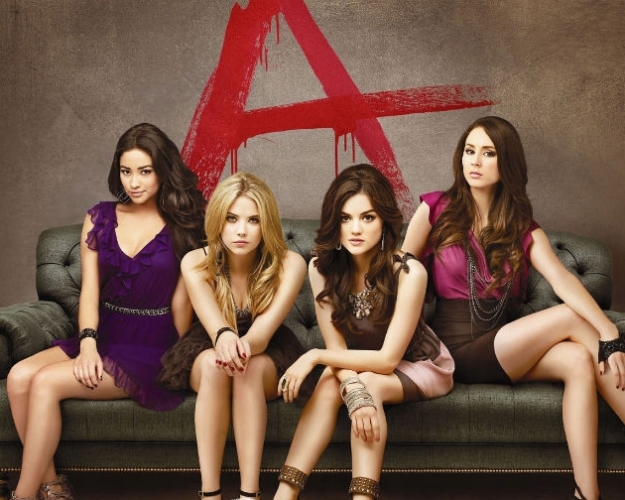 ---
The Fault In Our Stars: Livestream event 14:e maj~
Tyler Oakley (kändis på youtube) annonserad på sin twitter att han kommer att hosta ett livesream event med John Green, Ed Sheeran, 
Charli XCX och Grouplove den 14:e maj (onsdag, natten till torsdag). Tiden 6PM PT blir klockan 03:00 nästa dag för oss i Sverige. Men oftast brukar Livestreamsen gå att se i efterhand också. 
P.s. I "All Of The Stars" video fick vi också reda på denna information så vi vet att det stämmer.
---
The Maze Runne: They look for a way out~
En till grafisk bild från The Maze Runner gänget. Tomas, Newt, Minho och Ben ser vi på bilden.
---
The Fault In Our Stars: Ed Sheeran - All Of The Stars~
Ed Sheeran's låt All Of The Stars som är med på TFIOS soundtracket finns nu äntligen att lyssna på! Tyvärr inte på spotify än, men det kommer det med. Fin video också.
---
The Fault In Our Stars: Två TV spots~
Två nya jättefina TV spots från TFIOS filmen. De handlar lite om den svenska titeln...! 
---
The Giver: tre stillbilder~
Shit, såg att jag inte har skrivit om denna film förren nu. Blir lite så när man precis har startat. Denna bok som ska bli film heter The Giver. Under bilderna kan ni läsa "baksidan" på boken. Några skådisar som är med i filmen:
Alexander Skarsgård
,
Meryl Streep
,
Katie Holmes
, 
Brenton Thwaites, Taylor Swift och Jeff Bridges. 

Jättekul att en skarsgård är med och vi känner ju alla till Taylor Swift och Meryl Streep också. 
Jag stog och höll i boken i USa när jag var där för en vecka sedan, men valde att köpa de tre sista Maze Runner böckerna istället. Boken kändes JÄTTETUNN, men för varje sak som släpps om filmen så vill jag mer och mer läsa den. Kanske låna på biblan om de har den? Den var länge sedan faktiskt. 
Här har ni iaf tre stycken nya stillbilder från filmen. 
Jonas's world is perfect. Everything is under control. There is no war or fear of pain. There are no choices. Every person is assigned a role in the community. When Jonas turns 12 he is singled out to receive special training from The Giver. The Giver alone holds the memories of the true pain and pleasure of life. Now, it is time for Jonas to receive the truth. There is no turning back.
---
Maleficent: Awkward situation~
Maleficent har valt att visa ett klipp från filmen som de har döpt Awkward situation. Checka in den nedan.
---
The Fault In Our Stars:
En intervju från Cleveland, Ohio från TFIOS touren som går genom USa just nu. Lugn och trevlig intervju som är hela 12 minuter. Njut.
---
The Fault In Our Stars: Promises~
Fin och tänkvärd ny bild på Hazel i från TFIOS.
---
The Fault In Our Stars: We Put The Stars To The Test
Hur väl känner egentligen Shailene och Ansel varandra? Det har Entertainment Weekly tagit reda på. Klicka på bilden nedan för att se videointervjun.
---
The Fault In Our Stars: Grouplove - Let me in~
För någon vecka sedan uppdaterade jag att några nya låtar från TFIOS soundtracket hade kommit ut på spotify. Bland annat Let Me In som gruppen Grouplove hade gjort. Checka in den officiella videon som visar lite mer klipp fårn filmen! 
---
The Fault In Our Stars: Swing intervju 1~
Jag vte att det åtminstonde kommer att komma ut en till sån här intervju vid gungorna. Så här har ni en med Christina osm ni kan följa på twitter - 
@xtineMAY
. Kan inte ens börja med att förklara denna intervju. För det är inte bara en intervju. Hon gör så himla mycket mer med den. Berättar hur det var, vad hon tyckte osv, på ett sånt himla roligt sätt. Eller vad tycker ni? Kommentera gärna om ni INTE vill ha sånna här inlägg i framtiden.
---
The Fault In Our Stars: Tour in Florida and Ohio~
TFIOS gänget har varit på tour med filmen och nu har de hunnit besökt Florida och Ohio. Se bilder, instagram videos med mera nedan! 
P.s. det mesta är från Ansel Elgort's instagram. Sök bara på hans namn så kan ni följa honom! 
---
The Maze Runne: Who Am I?
Ännu en till stillbild från The Maze Runner med Tomas på bilden.
---
Maleficent: Tre nya BTS filmer~
Tre nya "featurettes" som det heter på engelska. Finns ingen bra översättnig på det så från och med nu kommer jag skriva det. Mne kort sagt är det intervjuer blandat med klipp från filmen.  
---
The Maze Runner: In The Maze~
Ny grafisk bild på Tomas I LABYRINTEN. Han ser lika rädd ut som jag är bara genom att tänka tanken. Hjälp! 
---
X-men: 23 nya karaktärs posters~
Några nya karaktärer och några gamla godingar. 
---
How to Train Your Dragon 2: Sista postern~
Sista postern för HTTYD. Filmen kommer ut den 4:e juli i sverige. 
---
The Fault In Our Stars: .

tfios-changed-my-life

 på tumblr har tagit sig tid och översatt alla boktitlar på TFIOS till engelska. Bland annat den svenska version som de på PTP tyckte var plågsamt sanna. 

Norges översättning har jag sätt förut och tycker den är lite smårolig, vad tycker ni? (:

English:

 The Fault in Our Stars


Spanish:

 Under the Same Star


German:

 Destiny is a Lousy Traitor


Portuguese:

 Blame it Star


Italian:

 Blame the Stars


Indonesian:

 Blame the Stars


Dutch:

 A Flaw in Our Stars


French:

 Otherwise Our Stars


Czech:

 Stars Not Wish Us


Turkish:

 Under the Same Star


Bulgarian:

 The Fault in Our Stars


Swedish:

 Sooner or Later I Explode*


Finnish:

 Written in the Stars Error


Greek:

 The Wrong Star


Danish:

 A Gash in Heaven*


Polish:

 Stars of our Wines


Estonian:

 Guilt in The Stars


Norwegian

: Fuck Fate*


Latvian:

 Our Stellar Fault


Bosnian:

 Error in Our Stars


Slovenian:

 Guilty Stars


Lithuanian:

 Because Our Destiny and The Stars to Blame


Serbian:

 The Book Which Made The Whole World Cry


Russian:

 Blame Star


Hebrew:

 Fault Stars


Thai:

 Star Talks


Icelandic:

 Written in the Stars


1. Chinese:

 Very Wonderful Pain*


2. Chinese:

 Life better Defect

*bloggarna på pagetopremiere tyckte att dessa översättningar var plågsamt sanna.

---

Love, Rosie: Ny stillbild~

Ny stillbild från filmen Love, Rosie med Sam Claflin och Lily Collins. Alex och Rosie ser vi i bilden.  

---

The Fault In Our Stars: Cyberbullying~

John Green, Shailene Woodley och Ansel Elgot har blivit intervjuade av

Bystander Revolution

 som jobbar mot mobbning.  

---

The Fault In Our Stars: Mr. Lancaster~

Ny bild på Hazel och hennes pappa från filmen.

---

The Fault In Our Stars: Rollercoaster~

Ny bild på fina gus från filmen.

---

The Longest Ride: Scoot Eastwood castad~

Scott Eastwood har blivit castad i Nicholas Sparks kommande film The Longest Ride (även bok). Blir filmen lika bra som de andra filmerna som Nicholas Sparks har skrivit böckerna, tex, The Last Song, The Notebook, Dear John osv. så kommer den att bli hur bra som helst. Boken finns att köpa på engelska. Scott kommer att få spela rollen som Luke. Kolla nedan för en summering av boken.

Ira Levinson is in trouble. Ninety-one years old and stranded and injured after a car crash, he struggles to retain consciousness until a blurry image materializes beside him: his beloved wife Ruth, who passed away nine years ago. Urging him to hang on, she forces him to remain alert by recounting the stories of their lifetime together – how they met, the precious paintings they collected together, the dark days of WWII and its effect on them and their families. Ira knows that Ruth can't possibly be in the car with him, but he clings to her words and his memories, reliving the sorrows and everyday joys that defined their marriage.

A few miles away, at a local bull-riding event, a Wake Forest College senior's life is about to change. Recovering from a recent break-up, Sophia Danko meets a young cowboy named Luke, who bears little resemblance to the privileged frat boys she has encountered at school. Through Luke, Sophia is introduced to a world in which the stakes of survival and success, ruin and reward — even life and death – loom large in everyday life. As she and Luke fall in love, Sophia finds herself imagining a future far removed from her plans — a future that Luke has the power to rewrite . . . if the secret he's keeping doesn't destroy it first.

Ira and Ruth. Sophia and Luke. Two couples who have little in common, and who are separated by years and experience. Yet their lives will converge with unexpected poignancy, reminding us all that even the most difficult decisions can yield extraordinary journeys: beyond despair, beyond death, to the farthest reaches of the human heart.

---

The Fault In Ours Stars: Press Junket 19:30!~

Om 15 minuter börjar en presskonferens för TFIOS i New York. Nedan har ni video där allt kommer att livesändas.

Shailene Woodley, Ansel Elgort, Nat Wolff, och John Green

 kommer att vara med!

---

The Fault In Our Stars: intervju med Shailene Woodley~

Videointervju med Shailene on set av TFIOS.  Hon pratar om Hazel, att spela mot Ansel som både bror och älskare och hur det var att spela mot Willem Dafoe.

---

The Fault In Our Stars: B-roll~

17 minuter av B-roll filmning från The Fault In Ours Stars. ENJOY! 

---

The Fault In Our Stars: EW cover shoot intervju~

---

The Fault In Our Stars: You're beautiful~

---

The Fault In Our Stars: The Cast~

---

The Fault In Our Stars: Entertainment Weekly~

 TFIOS stjärnorna Shailene Woodley och Ansel Elgort har gjort en photoshoot för Entertainment Weekly och nu har vi fått sett resultatet. Så himla fina tillsammans, eller vad tycker ni? 

---

The Fault In Our Stars: Tre nya stillbilder~

Ny stilbild på fina Hazel och Gus. 

---

The Fault In Our Stars: Intervju med Shai och Ansel~

MTV har gjort en lite behind the scenes intervju med Shailene och Ansel. Se den!

---

The Fault In Our Stars: Shailene klipper av sig håret!~

Här klipper Shailene av sig sitt hår för sin roll som Hazel i TFIOS filmen. Brevid henne sitter hennes mamma som också klipper av sig sitt hår och både skänkte sedan håret till välgörenhet som gör peruker åt barn med håravlossning. Starkt!

Jag har själv klippt av mig håret precis som Shai och kommer ihåg känslan när man gjorde det. Det var hemskt just då när man gjorde det, för det kändes som man förlorade något även om man blev mer än nöjd när det var klart.

---

The Guardians Of The Galaxy: Chris Pratt som Star-Lord~

---

The Fault In Our Stars: Smygpremiär i New York~

The Fault In Our Stars har valt att ha en fans-premiär visning den 3:e maj i New York. 3:e maj har ju redan varit, och teatern var full så de bestämde sig för att ha en till visnigen av filmen i New York snart! Skriver mer om det när jag vet mer!

Regissören Josh Boone har gått ut med hur lång filmen kommer att vara genom sin twitter.

---

The Maze Runner: Sju nya stillbilder från filmen~

Sju stycken nya och högupplösta stillbilder från The Maze Runner filmen.  

---